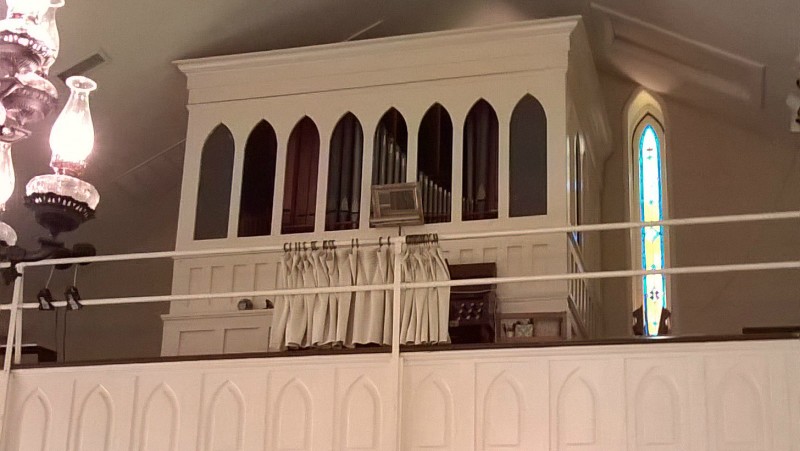 Pisgah's tracker organ was built in 1890 by Johann Heinrich Koehnken and Gallus Grimm—immigrants to Cincinnati from Germany in the late of 1830s and in the middle of 1850s, respectively. This fine Koehnken & Grimm instrument was given to Pisgah in 1928 by a member of a renowned Woodford County family, Dr. A. J. Alexander, and it has faithfully served Pisgah's people ever since.
       The word "tracker" designates a mechanical (rather than electrical—think a typewriter vs. the keyboard of a computer) action that is used in all the connections in an organ. In a tracker organ, trackers—slender wood rods—are used to connect the keys to the valves under the pipes. Depending on what kind of wood the trackers are made of, playing a tracker organ can be sometimes physically demanding, especially when one combines the upper manual to the lower one or to the pedal (to make the overall sound fuller), one ends up playing two notes of the same pitch simultaneously. Another unique character of Pisgah's tracker organ is its flat pedal board (rather than a concave—a more common design nowadays), which can demand a bit more physical effort and stretch when one plays higher or lower notes.
       In summer of 2013, Pisgah's tracker organ was being thoroughly renovated with the hope that this precious instrument can and will continue to serve Pisgah for many more decades to come.